9kW solar roof kits offer an efficient and lucrative energy source to your home. It harnesses sun energy which is an economic way to increase eco-friendly energy consumption.
A 9kW solar system can generate 3,28,500 units in 25 years of lifespan. In a day, it generates 36 units equal to 36000 watts which is ideal to run heavy equipment, machinery, computer operators, and much more.
Generally, a 9000-watt capacity solar power system is adopted by industrialists and commercial ventures where the electricity requirement is heavenly important in a continuous manner.
36-50 units of electricity per day (the efficiency of the unit dispenser depends on the quality and efficiency rates of the solar panel modules)
1,000 sq feet of rooftop space required installation. A shadow-free space is required for optimum power generation.
Return on investment in 5 years with 10,000 electricity-saving every month.
Appliances:
The 9kW solar panel system is ideal for running captivating appliances such as Petrol Pump, AC, Water pumps, Fans, Lights, Machinery, etc.
Applications:
It is good to know that a 9kW solar power system can be adopted by homeowners, office workers, Hospital management, Shop owners, School authorities, and factories.
Benefits of Installing a 9kW Solar System For Offices Commercial Shops, Factories
The 9kW solar connection is ideal to run offices, commercial shops and factories independently without using government electricity.
The system is powerful enough to provide convenient load for eight LED Lights, eight Fans, 2 ton AC (2 nos, Fridge, Washing Machine, 1 Cooler.
In its general lifestyle time (say 25 years) it releases 3,28,500 units of electricity, which is stunning.
With batteries, solar owners can use the back-up energy for long hours runs.
The system investment payback period is 5.5 years.
Also Read: All the Information You Need to Know About Solar Panel Subsidies in Uttar Pradesh
9kW On Grid Solar System – Pricing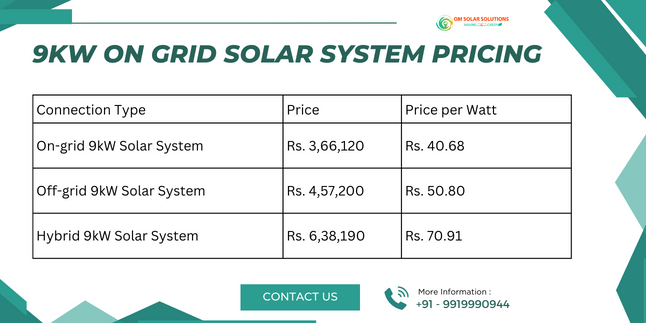 Want to know how much 9kW solar system prices cost? Well, our expert arranged an approximate quotation that closely matches with the market.
9000-watt solar system price in Uttar Pradesh. See the table below:
| | | |
| --- | --- | --- |
| Connection Type | Price | Price per Watt |
| On-grid 9kW Solar System | Rs. 3,66,120 | Rs. 40.68 |
| Off-grid 9kW Solar System | Rs. 4,57,200 | Rs. 50.80 |
| Hybrid 9kW Solar System | Rs. 6,38,190 | Rs. 70.91 |
Also Read: Solar Panel Price In Haryana With Subsidy
9kW Solar Installation in Uttar Pradesh
Are you in search for a 9kW grid-tie solar connection at your place? You can contact a Lucknow Solar Company to get the job done at a reasonable cost. Get faster installation services, experienced guides, and remote monitoring benefits.
Connect with us for Free Consultancy: Click Here